Digital Moonscapes --ESD 81542
The LSI Philharmonic Debut Album!
(Optimum 20-bit Hi-D transfers from the original 1984 master mixes, cleaned and tweaked to a fare-thee-well. The best this album has ever sounded. Also features our original album design concept rejected by CBS, in newly realized images and artwork.)

On this pioneering album the full resources of a Symphony Orchestra are emulated with the uniquely powerful GDS and Synergy Digital Synthesizers. Predating samplers, and in many ways still superior to that now omnipresent technology, these instruments combined additive and complex FM/PM modulation, with great flexibility. Carlos developed a surprisingly realistic library of most existing acoustic instruments plus many novel hybrids and extrapolated timbres that also sound "real." The two orchestral suites on this album comprise the debut performance and introduction of the aptly named LSI Philharmonic.

Tracks
From the Original Liner Notes
New: Looking Back on Digital Moonscapes
Credits and Thanks
New: Facts & images about the Moons
What they're saying about it -- Reviews

Back to the Discography Page
Back to the wendycarlos.com Homepage
---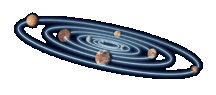 Digital Moonscapes
= Tracks =
Genesis (7:12)
Eden (4:29)
I.C. (3:40)
Luna (8:20)
Phobos & Deimos (3:27)
Ganymede (4:27)
Europa (4:19)
Io (4:25)
Callisto (4:29)
Rhea (1:50)
Titan (3:45)
Iapetus (5:50)
1-3• Cosmological Impressions
4-12• Moonscapes


Produced by Wendy Carlos for Serendip.
All selections BMI

(Top of the Page)
---

Liner Notes
(excerpts from the complete notes of the CD set)
I love the orchestra. In fact, when I switched from physics to music as my major in college, the opportunity to work with and write for orchestra was no small motivation. When it appeared that the new field of electronic music could give a composer all of the resources of an orchestra and more in a room-sized studio, I jumped at it and enrolled in graduate school at the Columbia Princeton Electronic Music Center, then (1962) the only such facility in the United States. The crude means of the classic electronic studio of that time, with a splice or two for each note of taped music, could produce magical and dramatic musical effects and textures, but they were certainly no substitute for an orchestra.

When I met Bob Moog in the early 1960's and began to work with his synthesizers, then at least I could interpret music with real performance values, as I attempted to prove with my Switched-On recordings. Indeed for fuss-pots like me, electronic music had become real music at last! For a while I thought that we were getting close to achieving an "orchestra in a box."
However, it did not take long for me to learn that this common belief was really a misconception. By 1968, when I was finishing my second album (The Well-Tempered Synthesizer), I had already discovered that the "infinite possibilities" of the synthesizer were actually very narrow &emdash; to the point of boredom, if one were honest about it. It was all too easy to sound thick and turgid, even with only two or three tracks of this presumably wonderful new sound. Somehow the sounds of the older acoustic instruments were still much better. I began to understand that it was the utter simplicity of the synthesizer's sounds that was their downfall. Acoustic instruments evolved over the ages to satisfy the human desire for subtly complex sounds. The synthesizer, as it evolved over only a few decades, produced sounds that were neither subtle nor complex and became boring with repetition, once the novelty wore off.

Even the most refined of today's analog synthesizers generate timbres that are far removed from physical reality, with their pure sine, sawtooth and square waves, plus a bit of filtering and modulation&emdash;all very easy to describe in words or pictures or numbers. Just try to describe the waveshapes from a (well-played) violin, horn or timpani!
Technology now exists that can digitally sample or record a few notes of rich acoustic sources and then play them back from a keyboard (at different speeds to produce other pitches) like the old Mellotron. While this does have its usefulness,
a few minutes spent with one of these machines will show you the limitations of the Xerox copy approach, if subtlety or flexibility is desired.

Even many of the wonderful new digital synthesizers made available over the past few years in a variety of forms, including a lot of bells and whistles and special convenience features, are still unable to control sounds much past the simple stage of the original modular Moog machines. The basic design of each presupposes this or that kind of sound variation to be "unimportant" or "inaudible," thus limiting the possibility of control.

Finally, what I consider to be the prime departure from the previous limitations was developed a few years ago by Hal Alles at Bell Labs. He modestly avoided making sweeping simplifications in his designs, which evolved to be open-ended enough, yet controllable, to permit subtle complexities in sounds akin to the best acoustic instruments. His series of prototypes eventually resulted in the GDS and Synergy digital synthesizers from Digital Keyboards. Their first task was to assemble a user-friendly software and control package for the Alles generator card.

The next step, which I undertook in 1982, was building a library of voices (nearly 500 by now, many were also made available on cartridges from Digital Keyboards) replicating as closely as possible the features of acoustic instruments. Album notes are not the place to describe the complexities of the several hundred details that must be programmed for each note of each instrument with various dynamic levels and performing methods. It is intimidating, yet ultimately fascinating. I recommend the exercise to any of you with a love of sound and some background in acoustics and computers. Expect it to take some years, but I promise you will learn a lot!

The results may not be perfect; mine are perhaps only something like 70-95% successful as replicas that sound just the way those "real" instruments do. (I like that term: "replicas.") But perform and record several dozen of these replicas together in an ensemble and you can produce what this recording demonstrates: the world's first digitally synthesized orchestra, thanks to the miracles of LSI technology ("Large Scale Integration" circuits, i.e., computer chips).

All sounds on this recording were digitally synthesized and fine-tuned by ear. No digital sampling techniques were employed. No microphones were used at any stage, thus eliminating one of the weakest links in audio. It was not necessary to disguise sounds with a lot of echo and phasing to hide their inadequacies. With digital delay and time processing, it was possible to achieve a balance between natural room-sound ambience and three dimensional stereo placement, resulting in an uncanny sense of "scrim free" orchestral transparency on the digitally mastered recording.

But why do all this? Do we now have the "orchestra in a box?" Not really, considering the time and effort required to produce an orchestral recording in this manner. Rather we should consider the reality of replication as only a measure of the quality of the synthesis, not as the ultimate goal. The goal ought to be providing the base on which to build new sounds with orchestral qualities that have not been heard before but are equally satisfying to the ear. This album represents my attempt to provide that base; look for the next steps using the experimental hybrid and imaginary sounds which have grown out of this work.
So the LSI Philharmonic is born. This recording celebrates itself within the bounds of the initial library of orchestral replicas I created. I present it to you as my encomium to the orchestra. After all, imitation is a high form of flattery. (But in most ways I still prefer the original.)

There's a significant reason why we find such a small audience for serious contemporary music. As Tom Wolfe pointed out in From Bauhaus to Our House, since about World War I, architects (and fine artists too) have become more afraid of appearing "bourgeois" than wanting to give delight to their audience. In so doing they have moved in smaller and smaller concentric circles until all stand on the same square inch of safely non- bourgeois style. I believe this applies as much to modern music as to the other arts. Is it any wonder that the audience at large has fled to the decidedly more human pop culture? My hunch is that they don't hate music that is m-o-d-e-r-n, only music that is b-o-r-i-n-g.

Considering that, the music composed for this album is no less important to me than the sounds it is performed with. Written for orchestra (or orchestra replica), it is inspired by several astronomical subjects.

(This section of notes in the album continues with descriptions of each of the tracks in detail.)
--Wendy Carlos, NYC 1984

(Top of the Page)
---

Looking Back on
Digital Moonscapes
Digital Moonscapes was the second major project in my present studio (the score to TRON provided its shakedown), and the first to make exclusive use of digital synthesis. When I wrote the notes above the finish to the sensational success of an outer planetary Grand Tour by the Voyager space probes was still in question. It wasn't certain that NASA would be financially able to complete the "bonus" fly-by intercepts of Uranus and Neptune. We threw away one chance to take the very close look at Saturn's largest moon, Titan. The revised path chosen for Voyager One made any further solar system intercepts by it out of the question. I thought Titan looked pretty unpromising, socked in by an opaque ochre atmosphere. A closer look would be wasteful, so I was angry to hear that's what had been decided upon by specialists more optimistic than I was.

Fortunately, the second Voyager, the one with the slightly better optical system, was not to be thrown away, and it came to complete our first observations of the two outermost giant planets, Uranus and Neptune, and many of their moons, as well. It was a creative challenge at NASA to find ways to get the most from the little probe that could. By the end of the 80's only the outermost planet, Pluto, with its relatively large moon, Charon, remained to be explored, and that's the way things stand at the start of the next millennium.

It came as a surprise to hear this music after a lapse of many years, when it no longer was vividly in my memory, individual trees to me, instead of a forest. I was happy to discover how many of the movements are carried by continuously woven melody, some decent themes there. It's not stuffy or overly cerebral music, and would work well on many live orchestral programs, just as intended. Sad to say, some of the writing, Luna in particular, outstrips the available technology of 1983/4, and is also too intricate, a bit "overcomposed" to work perfectly here. The ensembles are rendered with less clarity than a very good live orchestra (well performed and recorded) would make possible. The great amount of work I did is not always evident, and I find myself now less content with the LSI Philharmonic than I was when first building it.

On the other hand, now I do have an extensive collection of fine orchestral timbres and can perform these in fairly natural and elastic ways, not very far removed from any possible sound one might wish for. Yet the newest sounds based on samples are not always as cohesive as these complex additive and FM/PM versions. Many of the original LSI Philharmonic timbres just work better from note to note, soft through loud, in a charmingly natural manner that's nearly impossible to pull off with sample-based voices. It's an interesting lesson, and proves both that you can get good results from many alternative choices of creative expression. But each one of them will also have its strengths and weaknesses, no matter how much loving attention to detail you may bring to them.
---
A completely different topic is that the whole look and feel for this ESD album is changed from that of the 1983 CBS/Sony version. We had little choice: the original artwork is still under CBS copyright, so we're unable to use it legally as things stand. Working things out with a very large corporation is rather like trying the same thing with the government, similar red tape and inexplicable delays where the buck never stops. No matter for this project, I'm not going to cry about it. To be honest, we never cared for the original graphics, it was such a departure from the concept we'd originally requested, a dull, rather contrived replacement at that. During these several years I've never heard anyone compliment it.

When we explained the sudden urgency to design a new cover to other musicians and industry friends, to a person they requested we return to the original concept: of myself in outer space surrounded by the orbiting satellites with their elliptical paths circuiting around my head. ESD suggested Earth's own lunar terrain might make an appropriate setting for the scenario, and that good idea stuck. We've searched back to find a good vintage image of me in the studio, one taken in 1984, near the time of the first release, to work into our scenario concept.

After a few weeks using PhotoShop™ and other tools, I've cobbled together some of these ideas and elements, finessed and drawn many portions, and come up with the new images on this release. We're pretty happy as it's the sort of thing we first wanted but were unable to bring about. There's no doubt that an artist could have done a lovely job back then as we requested, and a painting would have lent a nice abstraction to the cover's mood. Evenso, there was certainly no way to generate the hyper-real image that you see on this new ESD remastering, not back in the early 80's. Candidly, I'm quite tickled at the opportunity to put things right this time around, and hope you'll agree that the new artwork fits the music and album concept far better than the originals ever did.


Audio Note
The sound on this new release is better than on any prior version, as once again we've made an ultra Hi-D digital transfer from the original master tapes, then carefully optimized and tweaked the sound so that every residual glitch was tamed with no audible side effects (this was my first digital album, and was in much better shape than those recorded earlier). A/B comparisons of several saved versions were made days later, and the best was chosen double-blind. The enhanced sound here is restored to and absolutely faithful to those original master mixes. There is also the usual Enhanced-CD bonus material for you to peruse at your leisure. We hope you'll enjoy the extra TLC behind this specially remastered edition.
--Wendy Carlos, NYC 2000

(Top of the Page)
---

Credits and Thanks
For the LSI technology and original images, this album is affectionately dedicated to NASA.

Sounds designed, performed, engineered and produced by Wendy Carlos, using GDS/Synergy synthesizers.
Important assistance from Stoney Stockell, Tom Piggott and Gus Skinas.
Original photography in the studio by Vernon Smith.
Originally released in 1984 as CBS (later Sony) MK 39340.

Restored, remastered and graphics/layout by Wendy Carlos.
Audio (DAW), graphics and additional Macintosh™ computer equipment by John Romkey.
"Hi-D" digital audio equipment by Mark of the Unicorn.
Verance MusiCode™ support by Gabe Lawrence and Joe Winograd.
Enhanced CD formatting by Drew Miller.

Special thanks to: Larry Fast, John Klett, Jerry Ptaszynski, Jim Cooper, Mike Burg and Rob Simonds / ESD.

© 1984, 2000 Serendip.
All rights reserved
---
NEW!: If you're interested in the fascinating lunarscapes that inspired Moonscapes, why not take a browse of a new NASA/NSSDC site that contains many of the best images of each moon, with a lot of interesting facts about them? There are tables comparing the size and properties of the various bodies. You'll discover details on each planet in our Solar System, too. All of the probes that have visited each body are represented by their best images, online for you to explore. It's also a perfect introduction to planetary astronomy, so bring the kids! We couldn't do as good a job ourselves if we tried -- take a look (but be sure to come on back)!
NASA's NSSDC Planetary Image Archives
What they're saying about it:
(Initial Reviews, to be updated. A big thanks to all who contributed!)
(East Side Digital's Blurb:)

Wendy Carlos - Digital Moonscapes
(ESD 81542 enhanced CD)
Digital Moonscapse comprises two suites for digitally synthesized orchestra, inspired by astronomical subjects. In 1982 Carlos built a library of voices replicating as closely as possible the features of acoustic instruments. Performing and recording several dozen of these replicas together in an ensemble produced the world's first digitally synthesized orchestra, the LSI Philharmonic (i.e., from "Large Scale Integrated" computer chips). All sounds on this 1984 recording were fine-tuned by ear, without digital sampling or microphones. Its careful balance between natural room-sound ambiance and three dimensional stereo placement gives the recording an uncanny sense of "scrim free" orchestral transparency.

Cosmological Impressions is a mini-voyage through time and space. Moonscapes is a nine movement suite in the spirit of Holst's "The Planets" about the major moons of the solar system.
---


From: Exclaim magazine (Canada)
October 19, 2001

Aritist: WENDY CARLOS
Title: Digital Moonscapes / Beauty In The Beast
Label: East Side Digital
Genres: Avant garde, Electronic, Orchestral
Not only is Wendy Carlos a pioneer in electronic music in using the synthesiser, her involvement and contributions to the development of the beasts of circuitry has made her somewhat of an electronic genetic engineer. Loosely modelled after Holst's The Planets, Digital Moonscapes (originally released in 1984) was a rather traditional yet adventurous musical impression made by various planets and moons in the solar system. The album would also serve to be the world's first "orchestra" to be conducted and created completely within the electronic realm.

While somewhat serving as a practical excuse for Carlos to manipulate and mutate technology to create a more realistic sounding digital orchestra, it wasn't until two years later that she would break ground with the legendary Beauty In The Beast, a meisterwerk on all levels. It is a surreal, Hieronymous Bosch-like musical interpretation of what lies beneath normality, and inspired by her world travels. After having endlessly tweaked each sound and circuit by ear, Carlos took things to the next level by somehow applying "magical" attributes to her library of orchestral sounds, which are otherwise humanly impossible to do with the real instruments. Somehow, these sounds become animals in their own right, sometimes even emitting bizarre emotions that are felt for the most part as too new, raw and peregrine to be able to describe.

As with her film score for A Clockwork Orange, these two sparkling, remastered reissues are the definitive versions to obtain, as not only is the sound astronomically better but Carlos' own infatuatingly in-depth liner notes are more informative than most encyclopaedias.
--Roman Sokal
---


A minireview of Digital Moonscapes by
Antoinette Botsford
The Napra ReView
Except for Switched-On Bach, I had never really paid much attention to Wendy Carlos. What strikes me now is how the shivery scope and vibrant originality of Carlos' vision, combined with extraordinary technical virtuosity, place her on the highest mountain peak in the range. And it seems that only Wendy knows the way up. Thanks to Digital Moonscapes I'm astonishingly airborne at 7:00 in the morning, with nothing more to bolster me than a cup of coffee. Am I safe in saying she has no true rivals sharing the terrain of this newly hatched world of sound?
---
A new DM review by Carol Wright for
Barnes & Noble.com
(to go to the <bn.com> site and view Carlos's listings, CLICK HERE;
to read a recent Wright bn.com interview with Carlos, CLICK HERE)
A new album or, in this case, a long-awaited reissue by electronic music pioneer Wendy Carlos is not something to approach casually. With each album, Carlos pushes the boundaries of electronic music, a lone surfer composing on the wave she herself makes -- and in the case of 1984's Digital Moonscapes, Carlos could still look around at the turn of the millennium and find she's the only one yelling "surf's up!" Here she moves beyond the quaint Moog and eerie vocoders of Switched-On Bach and A Clockwork Orange, working exclusively with a digital replication of the orchestra which she calls the LSI Philharmonic. Carlos crafts all the rich orchestrations herself without the use of samples, though the perfectionist composer admits she had to be satisfied with only 60- to 90-percent accuracy in replicating the real instruments. With the addition of reverb, however, the effect is nonetheless uncannily real.

The music comprises two suites inspired by Holst's The Planets: the three-movement "Cosmological Impressions" and "Moonscapes," modeled after ten of the moons of our solar system. "Genesis" opens the album with delicately wavering strings, a breathless void, ghosts of the universe enlivened. It's a cosmic brew that percolates until its pipe organ and trumpet yield a thunderous, life-birthing crescendo. "I.G." ends this suite with an "intergalactic communication" sequence (written in a stocky 13/4 meter) that is both touchingly quirky and surprisingly tragic.

The "Moonscape" suite opens with "Luna," on which Carlos evokes the gravitational effect of Earth's own moon; it is, as she puts it, a "concerto for schizophrenic soloist." Six distinct personalities have a meltdown: from violin to cello, "nervously retreating to become a trumpet," clarinet, bass clarinet, and piano. The surreal subject matter here and in the rest of the lunar suite makes for interesting themes and challenging listening. "Ganymede," one of Jupiter's moons, is jazzily dreamy, while that planet's other moon, "Europa," is celebrated for its thin veil of life-promising ice. "Io" is the most tempestuous, for this moon explosively boils with live volcanoes. At the start of "Iapetus," one can almost hear the spit from the French horn players and the bite at the beginning of each bass player's bow stroke, but the amazing fact remains that it's all Carlos here: performer, astronomer, composer, and conductor. Her compositions may feel a tad too avant-garde to some, but if you bring along your sense of curiosity and fun, you can join her out on the waves. What a blast!

(Top of the Page)
---

Back to the Discography Page

Back to the wendycarlos.com Homepage