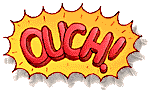 IV
But many, if not most of you, who have browsed my site do it with friendly, even compassionate, interest and the enjoyment of shared interests, musical to be sure, and a lot of other bits of business besides. I wish I had the means to write back to each of you, to thank you for your touching comments and simple understanding. You'll probably wince yourselves at this oblique, deeply felt protest, if your human values are intact. I'm sorry for that. I don't wish that any of my pain be yours, and would much prefer I that could be of some modest help, rather than depress you with these justly dismal reactions.

I've spent most of my life trying to be candidly objective (I just loathe lying, and am a chatterbox, can't you tell?), trying to break out of cages others built selfishly around me. I've paid dearly for some of this frank openness, and now have become rather gun shy. (I suppose the old joke is true: you can tell the pioneers by the arrows in their backs ;^). Meanwhile dumb curiosity has compelled me to try to open new doors. Not everyone is pleased about that. When I first began to post this page and Matthew kindly did all or most of the work, such topics never even came up. It's been only in the past few years that the ouches have started getting more and more frequent. (See my "work in progress", an Ouch List of the Cruel, a new special awards page.)
The near-sadists who perpetrate this shameful obsession of theirs have mostly been damn arrogant about it. I've tried to point out the gross disrespect and unkindness (and potential lawsuits) they are publicly exhibiting. Unlike magazine publishing, newspapers and broadcasting, whose exposures rapidly fade with each day or new issue, once on the web things have a tendency to remain there -- the odor of a leaking sewer. Isn't a matter of polite mutual respect called for here? Or are we all to become sneering little narcissistic savages, uncaring and unfeeling about anyone but ourselves?
I've mentioned the press here, because over the years I've been taken advantage of by a few clever manipulators of the printed word (although I count many friends in this once venerable profession, not these creeps.) I was and to some extent remain incorrigibly naive. A character flaw. It's only later on that I see when I've been suckered into shooting my mouth off in ways that a sharper mind would have scrutinized as being contrary to one's own sanity or health. The lessons learned are, to be honest about it, what have made me recoil this past 15 years, and to demand, as you would demand, the rights of privacy the USA was created to defend.
Fortunately those early transgressions were largely forgotten. Up to now. Little could I have anticipated (thinking most people don't try deliberately to be unkind) that some of these "sins of my youth" would now be jolted into new life, as in fiction did Victor Frankenstein reanimate dead flesh. I wish it were a fiction here, too, that something that I was manipulated into saying so many years ago now becomes the New Undead, brought back to taunt me. The offspring monsters repeat the lies and inaccuracies a crafty editor and writer spun together, grafting fiction onto fact, using phony photos I had been goaded into faking for "PR", misquoting what was said off the record into something to cater to the bored, distracted reader who, like the editor, really couldn't care less ("I got my end!").
Since most of you are simply NOT the target of this essay, one part of me wishes that like Merlin the Magician, some of you more knowledgeable about the net could find ways to trash such hateful pages. My human self-defenses shout out for sabotage of the villains, to treat like with like, to stop the pain, shut them out as they would do gladly to us if they might profit somehow by it. Perhaps those of you with writing skills might drop protest e-mail to the site & server, when you encounter one of these monsters in your browsing perusals.
Those who's arrogance is not balanced with compassion are not likely to be influenced in any way by any shouts of "Ouch" or "Foul" or "Grow Up". That's unfortunately been my experience. Like the self-righteous religious right, they dig in their heels, and invent new methods of veniality, of sideswiping the innocent. This time I am a victim. But anyone could be their next victim. I do hope it's not you.
--Wendy Carlos (Dec.1998; revised and edited Nov. 2000)